If your New Year's resolution is to get fit in 2017, then you've got to check out this list of incredible fitness centers near East Stroudsburg, Pennsylvania. At Ray Price Stroud Ford Lincoln, we've always got our ear to the ground for great local businesses, and this list has four gyms that we'd recommend to any of our customers. 
Check it out now, then try them out to find your perfect fit and to get back in shape in the new year.
True Glory CrossFit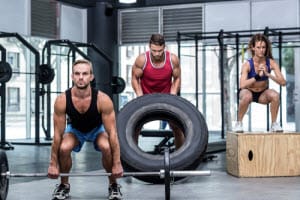 At this local gym, the true glory is finding that the answers to your insecurities and questioning of "can I do this?" is a resounding "heck yeah!". Between the coaching staff and the incredible community, you'll feel 100% supported in your fitness journey whether you're trying to lose weight or just get strong. 
What to Know Before You Go
True Glory CrossFit offers two free classes for new students who are looking for a great membership at a fitness center. So be sure to check out the website before you head over to take advantage of their outstanding offer!
Muscle, Inc.
Muscle, Inc. is about changing the way you think about the gym. It's not a place of losing, but a place of gaining. You'll gain nutritional knowledge, muscle mass, flexibility, and endurance, as well as an improved physique if you stick with it. At Muscle, Inc., fitness is a lifestyle. 
What to Know Before You Go
Muscle Inc. Health & Wellness Center offers memberships for as little as $24.99 per month, and they offer a long-term fitness program to help you have a fully healthy lifestyle. Check out their website to learn more about their membership options.
Stroud CrossFit
Passion, love, and community are the philosophy behind Stroud CrossFit. The gym offers the opportunity for you to reach your potential, then go well beyond what you ever thought possible. Newbies, athletes, and everyone on the fitness spectrum are invited to join in and work together.
What to Know Before You Go
Stroud CrossFit offers one free class for students who are new to CrossFit. You don't have to have any experience, but you will need to e-mail the gym before you show up for your first class so they know you're coming to check it out.
Pocono Mountain Fitness
A gym with all new equipment that is 100% state of the art welcomes you at Pocono Mountain Fitness. This gym offers a comfortable workout environment with everything you need to get fit in 2017, from free weights to elliptical machines. And, the gym has basketball and tennis courts so in the warmer months, you can take your fitness outside. 
What to Know Before You Go
Pocono Mountain Fitness is part of The Inn at Pocono Manor, which also has a spa and other appealing amenities, including a golf club, winter sports, and stables. So if you want to branch out into other kinds of fitness, this fitness center is a great place to do so.