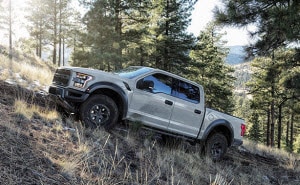 When it comes to full-sized pickups, everyone wants to get in the game, but only a few auto manufacturers remain at the head of the pack every year. Among those manufacturers are Ford and Chevrolet. Perhaps not surprisingly, these are also truck makers with histories that go back as long as there have been trucks. 
As anyone in Lehigh Valley, Stroudsburg, or Nazareth, PA, can tell you, the Ford F-150 and Chevy Silverado are two of the best performing pickup trucks there are, period. But there's a constant debate as to which is better. Explore the features, performance, and driving experience of these two popular models in this 2017 Ford F-150 vs Chevy Silverado truck comparison to determine which is the better pickup for you. 
Ford F-150 vs Chevy Silverado
In the 2017 Ford F-150 vs Chevy Silverado comparison, both trucks bring a pedigree of prestige and performance to the table that's largely unmatched in this sector. Each offers heavy-duty performance, outstanding comfort, and a range of convenience features. Let's take a look at which comes out on top in each area. 
Performance
When it comes to maximum power and performance, the 2017 Ford F-150 is a hauling and towing machine. Its high-end turbocharged V6 engine delivers solid fuel economy while combined with the lightweight aluminum-alloy design, and it offers powerful acceleration and performance. It has a maximum towing capacity of 12,200 pounds.
The Chevy Silverado is no slouch in this area, and at its top level is equipped with a 6.2L V8 engine. However, it's heavier than the Ford and as a result doesn't deliver the power, acceleration, or economy of its cousin, though it offers a very similar maximum towing capacity. 
Learn even more about the Ford F-150's performance in this comprehensive truck review. 
Interior Comfort
Both the Ford F-150 and the Chevy Silverado offer great options for customizability in a variety of trim levels and cab sizes. The Silverado is great at keeping you comfortable via heated and ventilated seats up front, and multi-point adjustable seats. 
The Ford F-150 offers tons of room in the cabin, plenty of space up front and back, and what's more, offers interior touches and materials that are nothing short of upscale. The range of comfort inside a Ford pickup feels luxurious without carrying a luxury badge. When combined with the heavy-duty performance Ford offers, that's a great advancement. 
Safety Features
When comparing the 2017 Ford F-150 vs Chevy Silverado, the Ford F-150 is an outstanding performer when it comes to safety features, testing, and ratings. With a perfect 5-Star Overall Safety Rating from the National Highway Traffic Safety Administration, it's already hard to beat. Add to the mix the Ford MyKey® technology, which allows for geofencing, speed and sound system limits for teens, and the surround-view 360-degree camera system, and you have a near-perfect package for safety. 
The Silverado, again, is a strong choice as well, with its OnStar telematics offering roadside assistance and collision warnings. It also receives high ratings in federal crash tests.
Technology Offerings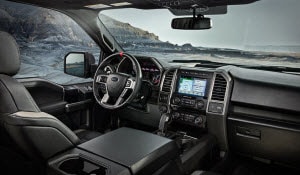 When it comes to technology, the Chevy Silverado is powered by Chevrolet's MyLink infotainment system, which offers a range of sound system and app integration features, as well as an integrated Wi-Fi hotspot. 
The Ford, however, offers a bit more than the Chevy, especially at lower trim levels. It has an intuitive and easy-to-use infotainment system in its Ford SYNC® 3 interface, and offers Android Auto and Apple CarPlay functionality for true smartphone app integration and the maximum in convenience. 
Drive the Ford F-150 at Ray Price Stroud Ford
Both trucks put up a great fight in the 2017 Ford F-150 vs Chevy Silverado truck comparison. In our opinion, the 2017 Ford F-150 is the better option for Stroudsburg, Nazareth, and Lehigh Valley, PA, drivers. If you're in the area and would like to learn more, stop into Ray Price Stroud Ford and ask about taking a test drive today!