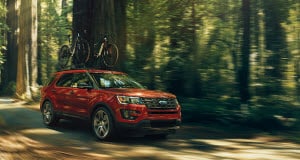 If you've been actively searching the Stroudsburg, Lehigh Valley, and Nazareth areas for a full-size SUV to get you and your family from Point A to Point B, there are many options out there to consider. Many SUV drivers have been touting the Ford Explorer as the best in the market, but others aren't as convinced, sighting the Toyota Highlander as the superior model. We're going to get to the bottom of this debate by comparing the 2017 Ford Explorer and the 2017 Toyota Highlander.
In our Ford Explorer vs Toyota Highlander comparison, we're going to show drivers like you the similarities and differences between these two vehicles. We'll look closely at engine performance, interior space and comfort, and safety features. This article will help determine which vehicle would be best for you and your family. 
2017 Ford Explorer vs Toyota Highlander: Engine Performance
While SUVs are known for having powerful engines, these two vehicles couldn't be more different in this category. The 2017 Ford Explorer stretches its legs with a 3.5L V6 engine and the Toyota Highlander is equipped with a 2.7L 4-cylinder engine. It's no secret that the Ford Explorer is more powerful, with its capability of reaching 290 horsepower with 255 lb-ft of torque. The Toyota Highlander has enough power, but falls very short in comparison with its 185 horsepower with 184 lb-ft of torque output. 
Interior Space and Comfort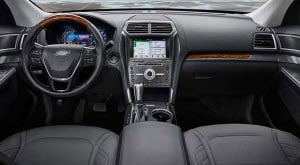 The differences between Ford Explorer vs Toyota Highlander don't just land on engine power, but with passenger space as well. The Ford Explorer opens with 151.5 cubic feet of space while the Toyota Highlander only offers 144.9 cubic feet of space for its passengers. Each vehicle features three rows of seating, with cloth materials as the upholstery. Passengers in the Ford Explorer get more headroom with 41.4 inches in the front and 40.6 inches in the rear. Toyota Highlander passengers only get 40.7 inches of headroom in the front and 39.9 inches in the second row. 
Safety Features
Each SUV is outfitted with sophisticated braking systems designed to keep the vehicle on track during slippery conditions and unstable terrain. The Ford Explorer features AdvanceTrac® with Roll Stability Control™, which will help you regain traction and will apply brake pressure if it senses wheel lift to prevent a rollover. The Toyota Highlander has Vehicle Stability Control, but this active safety feature isn't equipped with any rollover prevention systems.
The Ford Explorer features the MyKey system. This system lets you program a key for your teen driver that'll prevent their audio from playing until all passengers are safely fastened. It'll also allow you to set a maximum speed in an effort to teach your teen about safe and responsible driving practices. 
Schedule Your Test Drive
In this article, you learned all about the differences of the Ford Explorer vs Toyota Highlander. You saw that the Ford Explorer holds the cards in each of these categories. You can easily learn more about this remarkable SUV by scheduling a test drive.
Schedule your 2017 Ford Explorer test drive with us at Ray Price Stroud Ford-the dealership that proudly serves drivers in the Stroudsburg, Lehigh Valley, and Nazareth areas.