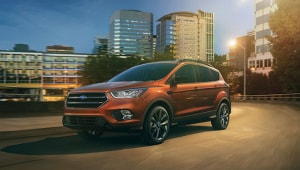 The 2017 Ford Escape and the 2017 Toyota RAV4 are top vehicles in the compact SUV class for buyers near Stroudsburg, Lehigh Valley, and Nazareth, PA. But when it comes down to it, a vehicle comparison can really help you decide which model is the best option for your next purchase so you can eliminate the possibility of buyer's remorse. 
In this 2017 v comparison, we're going to talk about what matters most to you: vehicle performance and convenience feature availability.
Vehicle Performance Comparison: Escape vs. RAV4
At first glance, it would appear that the 2017 Toyota RAV4 has a slight competitive edge on the 2017 Ford Escape. According to the numbers, the RAV4 is slightly more powerful than its counterpart. But what those numbers don't show you is the difference in performance for each vehicle. 
Ford Escape Performance Options
The 2017 Ford Escape offers powerful engine options. The standard 2.5-liter i-VCT engine produces up to 168 horsepower and 170 lb-ft of torque. But it offers two other powerful options as well if performance is exceptionally important to you. 
The 1.5-liter EcoBoost engine with Auto Start-Stop produces up to 179 horsepower and 177 lb-ft of torque and is offered with both front-wheel drive and Intelligent all-wheel drive. And the 2.0-liter TwinScroll EcoBoost engine with Auto Start-Stop produces up to 245 horsepower and 275 lb-ft of torque and also offers both drivetrain options. 
Toyota RAV4 Performance Options
On the other hand, the 2017 Toyota RAV4 offers just two engine options. The standard 2.5-liter 4-cylinder engine tops out at 176 horsepower, and the second 2.5-liter 4-cylinder engine option produces up to just 194 horsepower.
2017 Ford Escape vs Toyota RAV4: Feature Availability Comparison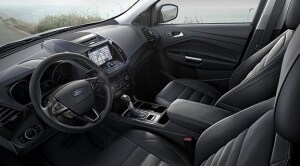 Another major point of difference between these two vehicles is the standard features offered. The 2017 Ford Escape offers an abundance of the "little things" that make the whole experience better. One is the variable speed intermittent wipers, whereas the RAV4 has just standard intermittent wipers. Being able to change the speed of the wipers means you can easily adjust to inclement weather. 
Another example of a major discrepancy in standard features is an onboard hands-free communications system. The 2017 Ford Escape has it as a standard feature in the base trim level, but the Toyota RAV4 will require an upgrade to get it.
Which Vehicle Will You Choose?
Choosing a vehicle to purchase is both an exciting and stressful venture, but it doesn't have to be. When you choose the 2017 Ford Escape, you get the best of everything, from the excellent performance to the comfortable and well-equipped interior. Take a closer look at the vehicle at your local Ford dealership near Nazareth, Lehigh Valley, and Stroudsburg, PA. 
The 2017 Ford Escape is available at Ray Price Stroud Ford. We have a huge inventory of new, used, and certified pre-owned vehicles for you to choose from, including the entire Ford lineup. Schedule a test drive now to learn more about the vehicle.