Located in the Poconos, residents of the Borough of Stroudsburg are aware of the need for an affordable, reliable, and highly capable mode of transportation, which is why many residents rely on a personal vehicle to get around. But finding a vehicle can be a bit of a challenge, since Stroudsburg is so far out. However, you do have an option. 
Ray Price Stroud Ford is located right on North Ninth Street in Stroudsburg. And we have everything you could want from a local, family-owned dealership.
Stroudsburg Family-Owned Business 
The Ray Price Family of Dealerships has been serving the Stroudsburg community for more than 100 years. Now in our fourth generation of car enthusiasts, the team behind the incredible service at Ray Price Stroud Ford is committed to making sure you're a happy customer, whether you're here for a vehicle maintenance service or you're here to purchase your family's next vehicle. 
Ford Vehicle Sales in Stroudsburg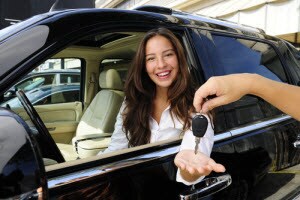 At Ray Price Stroud Ford, we take our Ford vehicle sales business seriously. Our dedicated team of sales professionals understand you have individual needs and you're looking for a vehicle that meets those needs. Whether you're on a strict budget, looking to splurge, or somewhere in between, we'll help youfind a Ford vehiclethat meets both your short- and long-term financial goals. 
As a family-owned and -operated business, we treat our customers like family, because to us, that's what you are. We'll listen to your needs and help you find a vehicle and automotive financing that makes your dreams come true. Start shopping our huge online inventory now to see all the new, used, and Certified Pre-Owned Ford vehicles we're offering right now. 
Automotive Service in Stroudsburg 
If you're looking to keep your vehicle on the road in Stroudsburg, especially during those tough winter months, it's especially important that you get regular service and maintenance done on your Ford vehicle. The team at Ray Price Stroud Ford will be happy to help you through the entire process of determining what service needs your vehicle has and getting them done right. 
From regular vehicle maintenance like oil changes, brake repairs, and tire replacements to major services including transmission repair, tune-ups, and more, the team at Ray Price Stroud Ford will be here for you. As Ford service experts, we're ready to take on all your vehicle's maintenance and service needs and get you back out on the road in no time at all.
Contact the Team at Ray Price Stroud Ford Today
Are you ready to become part of the Ray Price Stroud Ford family in Stroudsburg, PA? Contact the team to schedule a test drive of your favorite Ford vehicle by calling us at 877-817-9126. Or get started online now. Shop our huge inventory of Ford vehicles right on our website, then stop into our showroom at 301 N. Ninth Street, Suite A, in Stroudsburg. 
Ray Price Stroud Ford has been serving the Stroudsburg community for more than 100 years. Be part of our legacy by shopping with us today!