While the team at Ray Price Stroud Ford Lincoln may not be professional food tasters, there are a few things we know. And the thing we know best? Pizza! In the East Stroudsburg area, there are a surprising number of places to grab a slice, but few are delicious as the three that we're about to share with you. Check out our list, then place an order-and be sure to tell them that we sent you!
Tomato & Pesto Pizza at Primo's Pizza & Pasta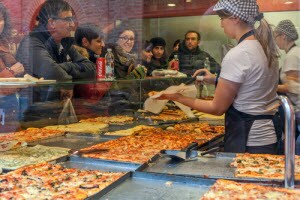 While the Tomato & Pesto Pizza may seem plain, it is anything but-it's a traditional pizza packed with flavors of Italy. Fresh basil, sliced tomatoes, and mozzarella cheese are all perfectly portioned on a delicious Italian pizza crust that will melt in your mouth. 
The menu at Primo's Pizza & Pasta has plenty of other options on their menu as well if you're not in the mood for pizza tonight. You'll definitely be able to find something that fits your mood whether it's a Philly Cheesesteak with onions, mushroom, & peppers ("the works"), or the Homemade Lasagna. 
Primo's Pasta & Pizza has been serving the Stroudsburg community since they opened in 1995, and they continue to serve up delicious Italian dishes every day of the week.
Philly Favorite Pizza at Bovino's Pizzeria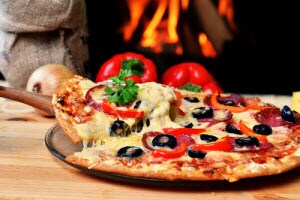 If you're not sure whether you're in the mood for pizza or a hero, order the Philly Favorite Pizza. It will fill both desires in the best possible way, and quench your craving for both. The pizza is on the Gourmet Pizza menu and features steak, peppers, onion, cheese, and mushrooms with a perfectly baked crust. 
However, there are a ton of other options on the menu at Bovino's Pizzeria & Italian Restaurant if that doesn't seem to fit your mood. We recommend the baked ziti because it's absolutely delicious, or the Bovino's chopped caprese salad, if you're looking for something light. 
Bovino's Pizzeria & Italian Restaurant is a family-friendly option that is perfect for any occasion. They offer dine in as well as carry out for your convenience.
Chicken Bacon Ranch Pizza at Bella Buono Pizza
If you want something that's not just your traditional pizza for dinner tonight, then you've got to order the chicken bacon ranch pizza at this local restaurant. It's delicious, it's fresh, and it's everything you crave when you decide not to cook dinner at home tonight. 
The restaurant is mainly a pizza joint, so you'll find all of the goods like a Sicilian pizza and a margarita pizza. Still, like all good Italian pizzerias, they also offer all of the options you could possibly want, including an Italian cold cut (yum!), chicken parmesan, lasagna, baked ziti, and more. 
The team at Bella Buono Pizza has been serving the Stroudsburg community for more than 10 years. And it's their welcoming atmosphere, delicious food, and modern dining area that keep customers coming back week after week.