The holidays are the perfect excuse for even the most stringent dieter to take a break to enjoy a sweet treat. At Ray Price Stroud Ford Lincoln, we believe that dessert should be eaten first (don't tell on us!) and that it should be enjoyed without hesitation. 
We've put together a list of our favorite holiday desserts in the East Stroudsburg area. Enjoy and have a happy holiday.
Kitchen Chemistry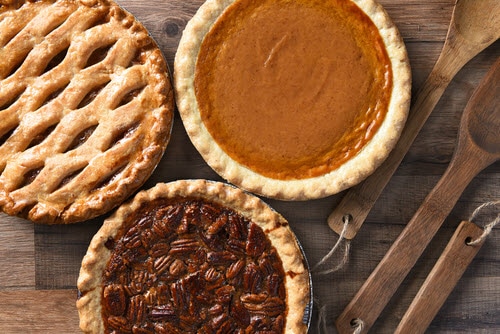 Everything at Kitchen Chemistry is made from scratch, and there's just something about a holiday dessert that demands that kind of care. At this local bakery, you can get everything from eclairs to turnovers and everything in between. You could snag a dessert for every meal from this dessert shop near East Stroudsburg. Turnovers for breakfast, crumb cake with lunch, and cake balls for after dinner. Just be sure to have a nice hot cup of coffee or cocoa nearby. 
Best Holiday Dessert on the Menu
The cupcake of the month for December is gingerbread, and we think it's worth it to indulge in this incredible flavor this holiday season. Yum!
Merry's Custom Cakes Bakery & Design Studio
Specializing in beautifully unique cakes for any occasion, Merry's Custom Cakes Bakery & Design Studio can create a holiday dessert your guests will never forget. From custom cupcakes and cake sculptures, this local bakery can create an incredible dessert for any occasion. They even make delicious (and beautiful) gluten-free cakes, so your family with food allergies don't have to miss out. 
Best Holiday Dessert on the Menu
If you're looking to match your cake with your décor, the Rainbow Cake might be a great choice. The classic vanilla cake is swirled with your pick of your favorite colors.
Patty Cake Bakery
Custom cake pops, cupcakes, and cakes are on display at Patty Cake Bakery near East Stroudsburg. The family-run business is a perfect place to snag this year's best holiday dessert. Whether you're looking for a beautifully themed cake to match your décor or celebrating a birthday or anniversary near the holiday, you can get it all at this local bakery. Check out their website for a full menu of delicious cakes, pies, cupcakes, and more great baked desserts. 
Best Holiday Dessert on the Menu
This is just our opinion, of course, but the apple pie with a lattice top is delicious. The best part? Nobody has to know it's not homemade by you!
Village Farmer and Bakery
Since 1976, East Stroudsburg residents have stopped by the Village Farmer and Bakery and enjoyed the more than 30 pie flavors they have in stock every day. The pies are baked right before your eyes so you know exactly what you're getting. Their daily special is the Apple Pie and Hotdog for $2.49, and we recommend you indulge a little when you snag one of the best holiday desserts in the area. 
Best Holiday Dessert on the Menu
You must try one of their fresh baked pies. We recommend the Pumpkin Crumb because it's a classic that's delicious and looks stunning on the table.