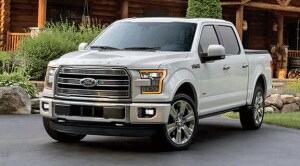 If you're in the market for a powerful and effective pickup for your work across the Stroudsburg, Brodheadsville, and Lehigh Valley area, one name should come to mind: the Ford F-150. This reliable pickup has been impressing drivers for many years, but how do you know if it's built to aid you with your toughest workloads?
In our vehicle review, we'll look at the 2016 Ford F-150, focusing on engine power and upgrade options as well as towing, payload, and cargo room. By reading this article, you'll learn a great deal about one of the most popular pickups on the market. You may even decide if it's the truck for you.
If you are also interested in the 2017 Ford F-150, check out the review here! 
2016 Ford F-150 Engine Power and Upgrade Options
Even at the base level, the 2016 Ford F-150 packs the power. The standard 3.5-liter V6 engine can reach 282 horsepower with 258 lb-ft of torque. The available 2.7-liter EcoBoost® V6 can reach 325 horsepower, and the 3.5-liter EcoBoost® V6 peaks at 365 horsepower. The highest engine option, the 5.0-liter V8, can reach a whopping 385 horsepower.
Allowing you to control your preferred engine is the 6-speed automatic transmission. It features tow/haul mode, letting you deliver more torque to your wheels so you can tow with ease.
This vehicle is also equipped with Curve Control. This feature uses the stability and traction control system to slow your vehicle if you're going too fast while approaching a curve.
Towing, Payload, and Cargo Room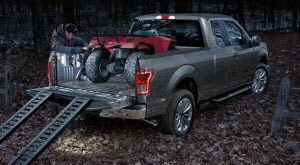 Finding the right engine, towing, and payload package is important to help you handle your work. The 2016 Ford F-150 features three long bed sizes for your cargo: 5.5, 6.5, and 8 feet. You can even choose different cab sizes to accommodate more than two passengers.
In terms of towing, the standard 3.5-liter V6 allows this truck to tow an impressive 7,600 lbs and carry 1,910 lbs of payload. The 2.7-liter EcoBoost® V6 shows a slight increase with its 8,500 lbs of towing capacity and ability to carry 2,210 lbs.
If you're looking to maximize your towing capabilities, the 3.5-liter EcoBoost® is your best bet. This engine option allows the Ford F-150 to tow a whopping 12,200 lbs. If you need the highest level of payload capacity, the 5.0-liter V8 can carry 3,270 lbs.
Find Your Ford F-150 by Scheduling a Test Drive
By reading this article, drivers like you from the Stroudsburg, Brodheadsville, and Lehigh Valley area learned about the 2016 Ford F-150 and its impressive capabilities. You learned about its engine options that offer different degrees of power and performance. You also learned about the payload and towing capacities as well as the cargo bed options.
You simply learned that this truck has what it takes to get the job done, but you can always learn more by getting behind the wheel.
Schedule your test drive with us at Ray Price Stroud Ford Lincoln.