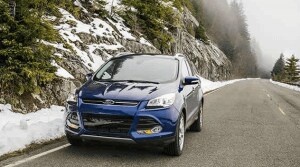 When it comes to crossover SUVs, there's no doubt that their popularity rises by the year. With all the amenities of the once-lauded minivan, these are outstanding options for family vehicles, offering the fun-to-drive performance of sportier vehicles. Many drivers on the roads of Stroudsburg, Nazareth, and the Lehigh Valley area wonder, though, what size of crossover is best for their needs? 
Among the leading vehicles in this class on the roads today are the Ford Escape and the Ford Edge. Both offer solid performance, options, capabilities, and fulfill different needs for a variety of drivers. Check out a side-by-side 2016 Ford Escape vs Edge car comparison to see what these SUVs have to offer and where you can go to take a test drive. 
2016 Ford Escape vs Ford Edge
The major difference in the Ford Escape vs Edge car comparison is their size. Both are rated as five-passenger crossovers, but the Escape is most decidedly a compact SUV, while the Edge is a midsize crossover which gives you 16 cubic feet more space, which translates to over half a foot more in the back seats. 
There's more cargo space in the Edge, too, with 39.2 cubic feet of space when the seats are up and 73.4 cubic feet when they're folded down. The Escape, by comparison, has 34.3 cubic feet with the seats up and 67.8 with them folded down. 
Fuel Economy Comparison
The size difference matters when it comes to the number of gas station stops you're going to make in either vehicle. The smaller Ford Escape gets an EPA-estimated 31 mpg on the highway and 22 mpg in the city. The Edge, by comparison, has more weight to carry, which means its EPA-estimated economy is only 30 mpg highway and 20 in the city. This might seem like a small difference, but it can add up. 
Base Features Comparison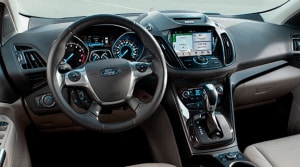 When comparing the 2016 Ford Escape and the Ford Edge in terms of base features, these vehicles are quite similar. Both come with a standard Sync Infotainment system, but the Escape gives you standard power adjust eight-way driver's seat and the Edge gives you standard leather-wrapped gear shifter and a second color driver information screen, which the Escape doesn't have. It really comes down to your preference. 
Test Drive the Escape and Edge in Stroudsburg, PA
In the 2016 Ford Escape vs Ford Edge car comparison, you can see that both the vehicles offer outstanding options and the performance you can expect from a Ford vehicle. They're built tough and fun to drive, and which one is better truly depends on your preference.
At Ray Price Ford Stroud Lincoln, we carry a range of 2016 Ford Escape and 2016 Ford Edge vehicles in various trim levels, options packages, and levels of customization for all of our Nazareth, Lehigh Valley, and Stroudsburg customers. 
If you'd like more information or to get behind the wheel to test drive these remarkable crossover SUV options, we are ready to help out. Just give us a call today or stop into our showroom and talk to one of our customer service specialists.